General Information
Name:
Koku Reinherd
Nickname/Alias:
Wings
Age:
20
Gender:
Male
Species:
Human
Appearance Information
Picture: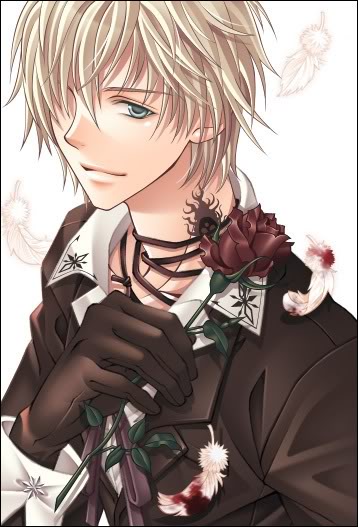 Description:
Koku was born and raised in America, but moved to Japan. He has light blond hair that hangs over his crystal green eyes. His skin is fair and creamy and has a slender frame. He posses an upside-down flaming skull on the right side of his neck. A large scar on the left side of his back.
He is well groomed and keeps a nice appearance, but has a habit of biting finger nails. He has nice white and straight teeth. He's an average height and weight. He looks a little out of place since he is a American-Japanese. Which he sometimes uses to his advantage when executing certain plans.
Height:
6'1
Weight:
155lbs
Clothing:
Koku wears most things from nice suits to grungy punk clothing. He is also fond of sun glasses and neck wear. He usually likes wear dressy but comfortable clothing. Most days he wears a rose on his outfit, but will give it away by the enc of the day. He is also wears a shirt with the name of his old band (Ero Ero Pocky) on it.
Personality Information
Personality:
Koku mind has somewhat fragmented in the last couple of years. His normal self is pretty happy-go-lucky and caring to most people. He is always trying to find a lead for his next intresting story. He likes carrying a rose, which he likes to give to people while flattering them. He does tend to try to build relationships with many people, but has to keep them at a distance.
His more cold, calm, and plotting side has no interest for friends, only to become a god like figure. He looks at people like tools and nothing more. This side comes out rarely and is usually a nagging voice in the back of his head. Koku sometimes has a hard time not following what his darker side wills. Koku has a grip on his dark side now, but as time passes his darkness might take him over.
Likes:
(What does your character like?)
Dislikes:
(What your character detest?)
Religion:
Morality:
Lawful Evil
-
Murderous:
7
-
Law-Abiding:
4
-
Violent:
4
-
Protecting Others:
Male: 2 Female: 6 Children: 8
-
Neatness:
6
-
Truthfulness:
2
Catch Phrase:
"Smile"
Theme Song:
Affilition Information
Side:
Light
Death Note:
Yes
Stat Information
Rank:
Able
Stats
-
Strength:
9
-
Speed:
12
-
Stamina:
10
-
Hand-Eye Coordination:
9
-
Intelligence:
12
-
Wisdom:
8
Item Information
Name:
(What is the name of your item? (Watch, Wallet, etc.))
Appearance:
(What does your Item look like?)
History:
(Where did you get your Item?
Name:
(What is the name of your item? (Watch, Wallet, etc.))
Appearance:
(What does your Item look like?)
History:
(Where did you get your Item?
History Information
History:
Koku was born and raised in America, he grew up widely unaware of the serial killer Kira. At a yound age he had a fascination with Japan. He was an Otaku during middle school, but learned to appreciate Japan as a whole. He even named his punk band Ero Ero Pocky, but after his band had broke up shorty after high school. Koku saved up his money to move to his spiritual homeland.
Koku saving enough money from his dead-end job he gathered his little possessions and moved to Japan. After an initial awe of moving he realized his dreams were going to be a little harder than expected. He became a freelance journalist there and had became semi successful. While in Japan he finally learned of the Death Mote and it's destructive powers. In his mind he would play out how powerful he would be with it, like a kid thinking if he had super powers.
After a couple years of living in Japan Koku had found the mysterious Death Note. After realizing that this notebook was as powerful as it really was his mental state started to degrade. His personality became playful and sweet on the outside, but dark cold and collective on inside. He continues living in Japan as a happy go lucky reporter. Though his dark side sometimes overwhelms him, and that's when things get dangerous.
RP Sample:
(Give us a sample of how you RP.)